Registration
Login
Hello, if you already have an account, log in.
Attention! We have switched to a new store engine!
Our online store switched to a new IT infrastucture on February 23, 2023. Old accounts created before 23.02.2023 still work and you can easily log in using your old access data. However, your purchase history from before 23.02.2023 is no longer visible in your accounts. If, as an old customer, you need your data for previous orders (placed before 23.02.2023), please contact us by email.
MVR-200 discreet digital audio recorder in a wristband
Digital audio recorder in a wristband
Built-in 8GB memory
Up to 18 hours of continuous operation
Built-in Li-Ion battery
Useful for discreet recording of meetings
Manufacturer Tips
Unleash the power of covert audio recording with the MVR-200 discreet wristband voice recorder. This sleek wristband conceals a hidden voice recording device, perfect for discreetly capturing conversations and important audio. With its intuitive controls and high-quality recording capabilities, the MVR-200 is your secret weapon for gathering evidence or preserving personal memos.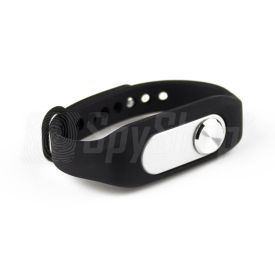 MVR-200 discreet digital audio recorder in a wristband