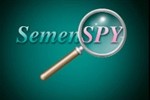 SemenSPY® CSI Forensic Edition sets have been specifically designed to quickly and accurately test for the presence of semen.


SemenSPY® products are used by law enforcement agencies providing first aid to victims, to quickly and easily detect trace amounts of semen in possible cases of sexual violence.

The reliable SemenSPY® products are also used by private individuals around the world to check a sexual partner's fidelity.
These kits are ideal for concerned parents who want to protect their children against possible abuse, from illegal underaged sex, or from the risks of unprotected sex.

Sets SemenSPY® ensure maximum discretion and allow you to carry out the test in the comfort of your home or office. SemenSPY® will give you peace of mind and will let you know the truth.